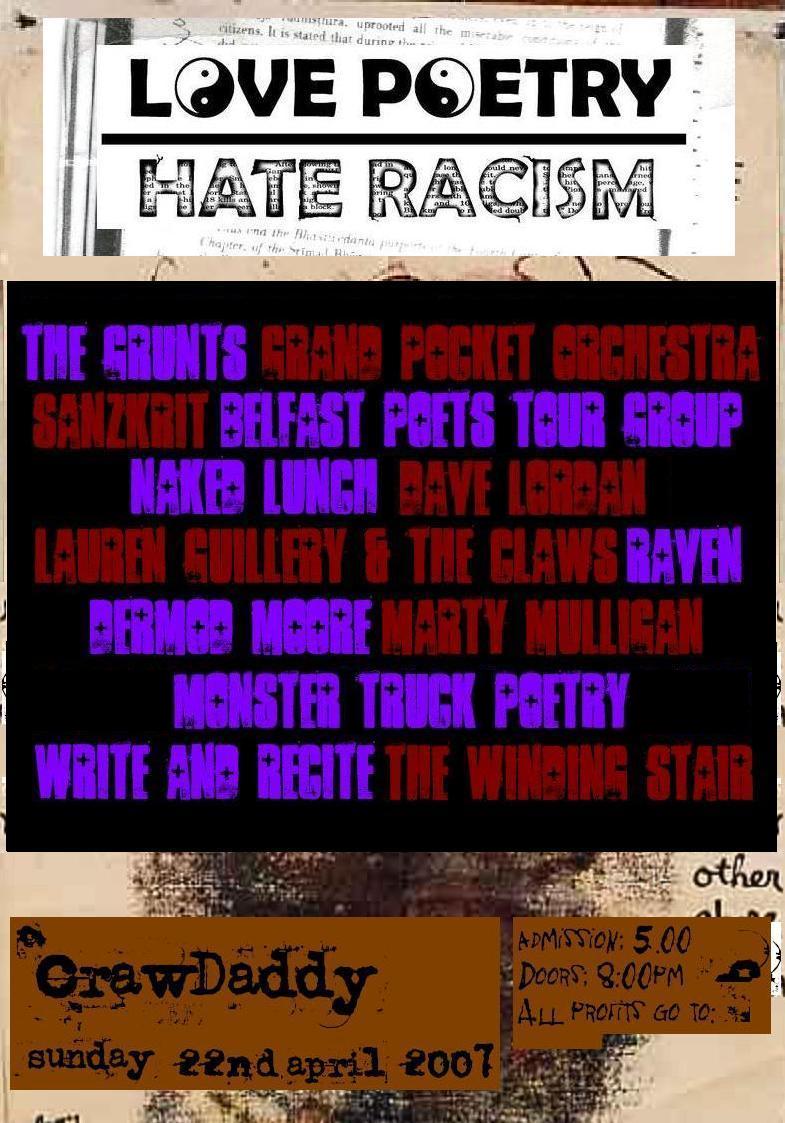 R A M
Residents Action Movement
An election launch like no other !
RAM's council election campaign kicks off with: BELFAST POETS TOURING GROUP presents: Love Poetry, Hate Islamophobia Internationally acclaimed performance poets with an action-packed, high-voltage, multi-media show. Rave reviews from their current U.S. tour reprinted bottom of this email. Supporting acts:
Latin rock band - ECHEVERRIA Y CIA
Good time group - FRANK E. EVANS BAND
P L U S
SHOCK! HORROR
! RAM announces news that will dismay the tired, useless, status quo politicians in City Vision (Labour) and Citizens & Ratepayers (National). and WOW! TOO MUCH! RAM unveils the most cutting edge billboards of the council elections. These billboards will set the agenda of all election tickets. Seeing is believing!
W H E N

This Wednesday

1 5 t h A u g u s t @ 7.30 p m W H E R E Trades Hall, 147 Great North Rd, Grey Lynn
OPEN TO THE MEDIA.
RAM's policies include:
Free & frequent buses and trains.
Cut council rates of grassroots homeowners.
Defend our communities from racist attacks.
Save our public assets from corporate colonisation.
Protect our park on the Manukau Harbour.
And other policies which put people before profits.
RAVE REVIEWS
For the Belfast Poets Touring Group
on their current tour of U.S. cities
The reviews below come from the Minnesota Festival - five stars is the MAXIMUM awarded. 5 stars:
"Love words? See this show." by Yvonne Healy:
Belfast? I rarely get to see performing art from there, so it was 1st on my go-see list. Clear, humorous, and insightful with the rhythm and themes of another world: kin to our Midwest with images of bad boyfriends, racism, yards of heavy drinking - oh, yeah, and war. Music in the spoken word. Audience response is encouraged: they often perform in bars. 5 stars:
"Bravo!" by M. Spicker:
Highly recommended. Profound, moving, humane. Extraordinary artists. The emotional impact/intensity I experienced with the performance of these five gifted poets, (Monday-8/6/7-10 pm), was similar to that experienced with a great symphonic or operatic work. Bravo! 5 stars:
"Riveting! Don't miss it!!!" by Amy Hubbard:
Even if you don't think you are a poetry lover you must see this. Beautifully written and presented this kaleidoscope of media, duets and solos will at turns make you laugh and leave you stunned. 5 stars:
"Powerful Word Portraits" by Rick Nielsen:
The power of the spoken word retains the ability the fascinate and engage. From various subject matter ranging from area codes to insensitive boyfriends to war, these extremely talented 5 young poetic wordsmiths from Belfast practice their virtuoso craft. If the idea of traveling poets seems improbable here, this is what Fringe Festivals should do best - inspire people to renew feelings of excitement and discovery. These people deserve a wider audience - please give it to them! Four-and-a-half stars:
"the universal and the specific" by Loren Niemi:
I'm a spoken word guy and these are my people - Northern Ireland outpost. This is good strong material, well crafted, well spoken, with robust language not shackled in hip-hop cadence, strong images, universal and specific themes of war, peace, love and dickhead boyfriends. If I have any complaint it is of wanting more of the specific; more of the ideosyncratic gritty lilting images and turns of phrase that give a sense of Belfast and Derry, invoking time, place. culture that these talented poets have provided with the helpful glossary that comes with the program. Good stuff! Go see it!!! Four stars:
"poets invade mpls" by steve legas:
I think you must be blocked if you've not seen this show. Poets from Belfast with souls of hip-hop and truth. Do not be afraid of poetry folks. They don't back down from the truth and that makes 'em great to hear. Grab your muckers and head to the Red Eye for this show.